It is my belief that Sharing of Ideas/ Thoughts can help each other. With my interest in MEP (which not only stand for Mechanical, Electrical & Plumbing but for Meticulous, Efficient and Passion), I wanted to start this blog spot.
Synergy stands for Working Together.
"Nobody can achieve success alone." ― Ifeanyi Enoch Onuoha
"Alone we can do so little; together we can do so much." – Helen Keller 
"None of us is as smart as all of us." Ken Blanchard
I hope everyone enjoys reading these topics and you may also refer back some interesting
issues/ topics. Let us all make this a good success.
ENERGY CONSERVATION :
We are celebrating EC week from 14th to 20th December of Every Year. Many seminars are conducted by various forums about the Need and possibility of Energy conservation but I found what is lagging is the Right Attitude. It is neither the dearth of Technology nor the pricing. But Awareness and Attitude are really essential to conserve energy.
I don't know how many of you area ware that our Per capita Energy consumption is only around 900 units where as the most advanced countries have got very high per capita consumption. For example, ( based on 2010 statistics) Canada has got 15145 units and that of USA is 13361 where as the World average is around 2892 units.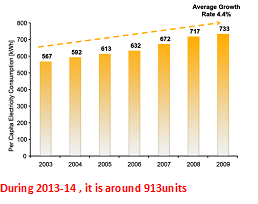 Bureau of Energy efficiency has identified a saving potential of 23% in various sectors like
Industries, Buildings, Agriculture etc. This indicates that Our industrialization s not upto mark and if we plan for a GDP of 6% (CAGR), we also need to increase our generating capacity by atleast 3times by 2030. Our T&D losses are also very high ie around 23% ( in 2010) when compare with many developed countries which is only 4-5%.
Energy Conservation Building code (ECBC) is a good attempt by BEE to bring Energy conservation in the Design stage. Both Govts of Telangana & AP have made it mandatory now. Any new Non Residential building has to comply with these guidelines..
We may discuss some of these topics in future blogs.